Visit the Greater Hartford Maker Faire's new website:
Maker Faire is the Greatest Show (and Tell) on Earth—a family-friendly showcase of invention, creativity and resourcefulness, and a celebration of the Maker Movement. It's a place where people show what they are making, and share what they are learning.
Frequently Asked Questions
What is Maker Faire?
Maker Faire events across the United States are celebrating a DIY/homegrown invention movement. Whether it's a home-built robot, video game, handbag, miniature race car, musical instrument, or sustainable micro garden, Maker Faire showcases all that is creative and innovative in our community.
When and where is the Greater Hartford Mini Maker Faire?
Saturday October 8, 2016 10:00 a.m. – 4:00 p.m
Tunxis Community College, 271 Scott Swamp Rd, Farmington, CT
What kinds of exhibitions will be there?
Interactive projects that showcase the value and process of "making" including:
• Vintage Tech and Gaming    • Design/Architecture/Engineering
• Robotics   • Hacker and Maker Space   • Biotech/Biochem
• 3D Printers   • Tesla Coils   • Miniature Racing and Boating
• Student Projects/Experiments   • Clothing/Textile Design and Innovation  • Food and Beverage Makers    • Crafts    • Found objects
• Visual Arts   • Performing Arts   • Fire/Water Displays
• Unusual Tools   • Kites   • Bicycles   • HAM Radio   • Art Cars
What are the characteristics we are looking for as Makers?
A do-it-yourself project that is unique, inspiring, engaging, and interactive with observers. It tells a story. It might be a piece of art… or a tool or project that does something different. It should be something that hasn't been seen before, or at least by few people. It should not be for commercial purposes – no selling….at least in the Maker Demo Space. The Maker needs to be there to demo and explain. Its okay to take commercial things and do a "mash-up" that repurposes in unique and "ah hah" ways, ie, an underwater bicycle. Risky projects are encouraged, but need to be managed in a way that the audience and property remain safe. For example a rocket-propelled motorcycle would be great, but would need to be shown in a safe way.
Who should apply for a Greater Hartford Mini Maker Faire booth?
Local, regional, and national groups, clubs, individuals, schools, libraries, universities, and hobbyists who can demonstrate or actually show the making of their invention/craft/project in a contained booth setting or workshop.
What does it cost to exhibit?
Applicants who are chosen by a review panel to participate will receive a 10'x10' area at no charge. A table and 2 chairs will be provided. Those applicants who also wish to sell products at Greater Hartford Mini Maker Faire may be asked to pay a fee for their booth space.
How many Makers will exhibit?
The Greater Hartford Mini Maker Faire had approximately 50 exhibits last year and we are hoping to expand this year. Attendee cost is free.
How many people will attend the Greater Hartford Mini Maker Faire?  Last year over 1,500 people of all ages attended the faire and had a ball – this year we expect even more.
How do I learn more?
To learn more about the national Maker Faire movement visit the Maker Faire website.

The original Maker Faire event was held in San Mateo, CA and in 2014 celebrated its ninth annual show with some 1100 makers and 130,000 people in attendance. World Maker Faire New York, the other flagship event, has grown in four years to 600+ makers and 80,000 attendees. Detroit, Kansas City, Atlanta, Milwaukee, Orlando, Silver Spring, Paris, Rome, Oslo, Trondheim, Tokyo, Newcastle (UK), and Shenzhen are the home of larger-scale, "featured" Maker Faires and over 120 community-driven, independently organized Mini Maker Faires are now being produced around the United States and the world.
Maker Faire is supported by Make: magazine and Maker Media.
About Make: Magazine: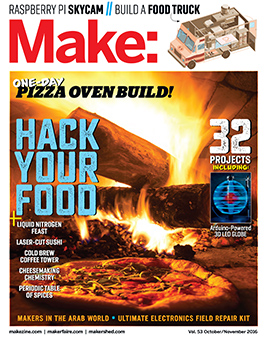 Make: is the first magazine devoted entirely to Do-It-Yourself (DIY) technology projects.
Make: unites, inspires, informs, and entertains a growing community of resourceful people who undertake amazing projects in their backyards, basements, and garages.
Make: celebrates your right to tweak, hack, and bend any technology to your will.
Besides the magazine and the faire, Make:
and Maker Media is: